---
Therapeutic Exploitation of IPSE, a Urogenital Parasite-Derived Host Modulatory Protein, for Chemotherapy-Induced Hemorrhagic Cystitis and Bladder Hypersensitivity
Evaristus Mbanefo, PhD1, Loc Le, PhD1, Luke Pennington, BS2, Theodore Jardetzky, PhD2, Abdulaziz Alouffi, PhD3, Franco H. Falcone, PhD3, Michael H. Hsieh, MD/PhD1.
1Children's National Medical Center, Washington, DC, USA, 2Stanford University School of Medicine, Stanford, CA, USA, 3University of Nottingham, Nottingham, United Kingdom.
BACKGROUND:Bladder hypersensitivity symptoms, including frequency and pain, are involved in many diseases. Anticholinergics do not work for some patients, and can result in adverse reactions. Ifosfamide-induced hemorrhagic cystitis, which induces bladder hypersensitivity, can be difficult to manage when Mesna fails to prevent it. Prior work suggests IL-4 alleviates ifosfamide-induced hemorrhagic cystitis and resiniferatoxin(an ultrapotent capsaicin receptor agonist)-induced bladder pain, but systemically administered IL-4 can cause significant side effects. Thus, there is a need for more therapeutics for bladder hypersensitivity. Others have therapeutically exploited parasite-derived host modulatory proteins for immune-based diseases. We hypothesized that the Schistosoma haematobium homolog of IPSE(Interleukin-4 inducing Principle from Schistosoma mansoni Eggs), a host modulatory protein, would reduce ifosfamide- and resiniferatoxin-induced bladder pathology. Besides activating IL-4 expression by binding to IgE on mast cells and basophils, IPSE translocates into host cell nuclei and influences gene transcription.
METHODS:We cloned and expressed the S. haematobium homolog of IPSE(H-IPSE) and a nuclear localization sequence-deficient mutant(NLS-) in mammalian cells. H-IPSE-IgE binding was measured by ELISA. H-IPSE activation of IgE-bearing basophils was assayed using RS-ATL8 basophilic reporter cells. Cellular uptake and NLS-dependent nuclear translocation of H-­IPSE and NLS- were confirmed using HTB­9 urothelial cells and fluorescence microscopy. For in vivo studies, mice were administered IL-4, H-IPSE, or NLS- protein. Some mice receiving H-IPSE or NLS- were given neutralizing anti-IL-4 antibody. Then, mice were administered ifosfamide(with or without Mesna) or resiniferatoxin. Bladder IL-4 levels were quantified using Luminex. Urinary frequency was determined by voided spot on paper assay, spontaneous pain and pain-associated freezing behaviors measured, and bladders examined for macroscopic and microscopic edema, hemorrhage, and urothelial denudation. Behaviors and histology were interpreted in a blinded fashion. Bladder hemoglobin content was quantified by Drabkin's assay.
RESULTS:H-IPSE bound IgE in vitro and activated IgE-bearing RS-ATL8 cells, suggesting H-IPSE induces IgE binding-dependent IL-4 production. Nuclear translocation of H-IPSE but not NLS- was confirmed using HTB-9 cells. A single H-IPSE dose was superior to Mesna and IL-4 in suppressing ifosfamide-induced bladder hemorrhage in an IL-4-dependent fashion, and comparable to Mesna in dampening ifosfamide-triggered urinary frequency(IL-4 and NLS-reliant) and spontaneous pain behaviors(NLS-dependent)(Figure 1). Moreover, a single H-IPSE dose reduced resiniferatoxin-mediated freezing behaviors in an IL-4- and NLS-dependent manner(Figure 2). However, H-IPSE did not alter whole bladder levels of IL-4 in either ifosfamide- or resiniferatoxin-exposed mice, suggesting that any IL-4 effects occur outside the bladder and/or in isolated bladder tissue compartments.
CONCLUSIONS: Our work represents the first time that a uropathogen-derived host modulatory molecule has been therapeutically exploited in bladder disease models. Ongoing efforts are directed towards improving these effects, defining which cells express IL-4 in response to H-IPSE, and understanding how H-IPSE may favorably alter cellular gene expression.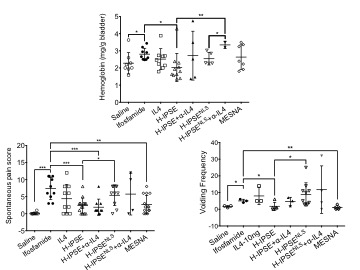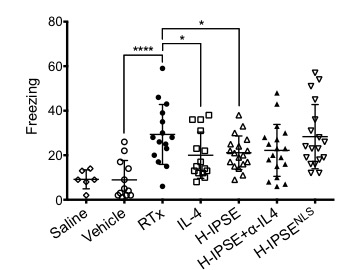 ---
Back to 2016 Fall Congress