---
A Social Media Advertised Study of Patient Reported Genital Appearance and Sexual Function in Adult Males with Bladder Exstrophy
Courtney K. Rowe, MD, Margarett Shnorhavorian, MD, MPH, Pamela Block, BS, Jennifer Ahn, MD, Paul A. Merguerian, MD, MS.
Seattle Children's Hospital, Seattle, WA, USA.
BACKGROUND: The few studies that have evaluated patient-centered outcomes of adult males with bladder exstrophy have shown increased rate of erectile dysfunction, lower quality of life and unfavorable genital appearance. These have been single institution reviews with low response rates and concern that bias may be introduced by surveying ones own patients.
As a collaboration with the Association for Bladder Exstrophy Communities (ABeC), an international support network for patients and families living with bladder exstrophy, we set out to perform a social media advertised online anonymous study of patient reported genital appearance and erectile function. We hypothesized that patient reported perception of penile appearance and sexual function would be low.
METHODS: An anonymous cross-sectional survey of ABeC members was performed incorporating validated instruments to evaluate genital appearance and sexual function using RedCap, a secure web-based system for data collection. This was advertised on the ABeC website and Facebook page to all males not considered minors in their jurisdiction. Our primary outcome was the Penile Perception Score (PPS), a validated survey of patient perception of genital appearance, plus additional questions regarding genital appearance. Our secondary outcome was the 15-question International Index of Erectile Function (IIEF-15) a validated survey that evaluates erectile and orgasmic function as well as desire and satisfaction. We also captured self-reported demographic characteristics. We considered a completed survey section greater than 80% of questions answered. Means and standard deviations were calculated. Our results were compared to prior published normative data for healthy patients without a diagnosis of bladder exstrophy.
RESULTS: Fifty-four respondents completed the PPS. Forty-nine respondents completed the IIEF and forty-six participants completed the demographic questions. The mean age was 30 (18 - 74) and 74% of respondents were from the United States, with the rest from Australia, Canada, India, Netherlands, Peru, Tunisia and the United Kingdom. When compared to a prior social media study of penile perception in patients without bladder exstrophy, our respondents appeared more satisfied with their penile length and general appearance (Table 1, PPS 10.6 vs. 9.4 on prior study.) When compared to the original normative sample of 109 healthy older patients (mean age 55, range 29-76), our respondents scored lower in every domain of the IIEF-15 (overall satisfaction 5.5 vs. 8.6 on prior study).
Eighteen percent reported a diagnosis of infertility and 30% of respondents had caused a pregnancy. 46 respondents (85%) reported that they were sexually active within the last 4 weeks, with 3 (7%) reporting the need for medical treatment for erectile function and none reporting surgical treatment.
CONCLUSIONS: This study shows that social media can be harnessed to obtain anonymous results of patient centered outcomes for adult males with bladder exstrophy. Overall, respondents were happy with their genital appearance but had low scores for erectile and orgasmic function, sexual desire and satisfaction. Continued focus on patient centered outcomes will help address these issues.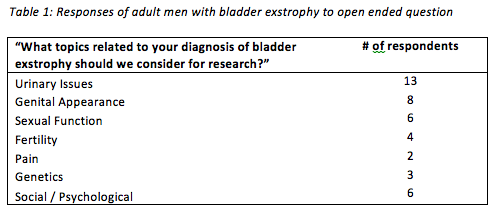 ---
Back to 2017 Program