---
Impact of Continuous Low-dose Antibiotics on Growth Parameters in Pediatric Vesicoureteral Reflux Patients
P. Joseph Guidos, MD1, Angela M. Arlen, MD2, Megan A. Bonnett, BS1, Traci Leong, PhD3, Christopher S. Cooper, MD1.
1University of Iowa Hospitals and Clinics, Iowa City, IA, USA, 2Yale University, New Haven, CT, USA, 3Emory University, Atlanta, GA, USA.
BACKGROUND: Prophylactic antibiotics are a non-specific approach for recurrent urinary tract infection (UTI) prevention in children with vesicoureteral reflux (VUR). Early-life antibiotic exposure has been associated with increased adiposity in animal models and observational studies in children have reported associations between antibiotic exposure and body mass. Other studies demonstrate an adverse impact of antibiotics on bone growth. While continuous antibiotic prophylaxis (CAP) is generally considered safe, the impact of antimicrobials on human gut microbiome, metabolism and growth parameters remains unknown. We sought to determine whether CAP altered growth percentiles in pediatric patients with VUR.
METHODS: Children diagnosed with primary VUR managed on CAP were identified. Patient demographics including weight and length percentiles, age, gender, VUR grade, laterality, type of antibiotic, UTIs, and presence of breakthrough infections were tested in uni-and multivariate analyses. Primary outcome was change in growth percentile during follow-up.
RESULTS: One hundred and thirty-one patients (104 girls, 27 boys) with at least 1 year of CAP met inclusion criteria. Mean age at diagnosis was 30.8 ± 26.8 months and mean follow-up was 17.6 months. Sulfamethoxazole/trimethoprim was the most common antibiotic (67.4%), followed by amoxicillin (10.9%) and nitrofurantoin (9.3%). Breakthrough UTIs were present in 25.2% of patients. Recorded weight and height percentiles were calculated using WHO growth curves for patients <2 years of age and CDC growth curves for those >2 years of age. Mean change in weight percentile between visits was 0.27% (2.04% in males, -0.87% in females; p = 0.62). Mean change in height percentile was -5.67% (-7.61% in males, -5.17% in females; p = 0.40). In both univariate and multivariable analyses, age was associated with a significant change in height percentile, with mean decrease in percentile by 22.7 for patients <1 year of age and 0.87 for patients >1 year of age (p = 0.02) [Figure]. No characteristics were associated with statistically significant change in weight percentile. Antibiotic type showed no significant impact on change in growth percentile (Table), and analysis of patients with BMI available demonstrated a non-significant mean increase of 0.52 ± 1.4.
CONCLUSIONS:
Continuous antibiotic prophylaxis was associated with decreased height percentiles in children with primary vesicoureteral reflux, particularly in patients less than 1 year of age. The small increase in weight percentile and BMI in our study did not reach statistical significance. Further analysis is needed to investigate whether the effect on height percentiles persists over time and represents linear growth restriction.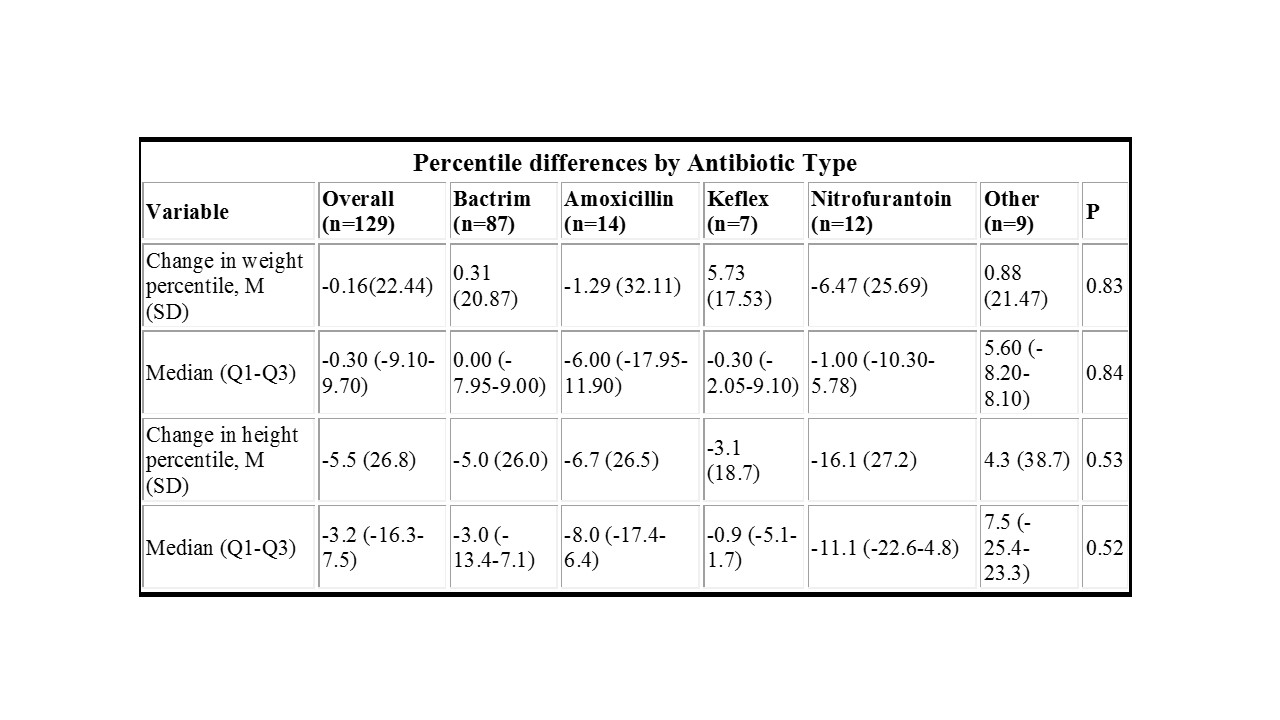 ---
Back to 2017 Program