---
The Presence Or Absence Of Trabeculations And Reflux Outperforms Urodynamic Findings In Predicting Adverse Outcomes In Infants And Young Children With Spinal Dysraphism
Matthew D. Timberlake, MD1, Adam J. Kern, MD1, Richard Adams, MD2, Candice Walker, RN2, Micah A. Jacobs, MD1, Bruce J. Schlomer, MD1.
1Children's Medical Center, Dallas/University of Texas Southwestern, Dallas, TX, USA, 2Children's Medical Center, Dallas/Texas Scottish Rite Hospital for Children, Dallas, TX, USA.
Purpose:
Recent studies question the reliability of interpretation of urodynamic (UD) findings including end fill pressure (EFP), detrusor sphincter dyssynergia (DSD), and uninhibited contractions. We hypothesized that in young children with spinal dysraphism (SD), risk for adverse urologic outcomes might be assessed adequately based on presence or absence of trabeculation and vesicoureteral reflux (VUR), initial volume (IV) of urine drained at UD catheter placement, and detrusor pressure at initial volume (DPIV). Outcomes of interest include febrile urinary tract infection (UTI), dimercaptosuccinic acid (DMSA) scan abnormalities, and need for early clean intermittent catheterization (CIC).
Materials and Methods:
We reviewed records of infants and young children with SD who had UD and DMSA scan before age 2 to create a longitudinal database. Patients were managed initially without CIC from birth. Early CIC was defined as initiation of catheterization before attempts to achieve continence. Bladder trabeculation, VUR, EFP, IV, and DPIV were evaluated for association with subsequent febrile UTI, DMSA abnormality, and need for early CIC by longitudinal analysis. We sought a combination of factors to accurately stratify risk. Outcomes between groups were compared by survival curve analysis and logrank test.
Results:
130 patients underwent initial DMSA at a median age of 4.6 months (interquartile range [IQR] 3.3 – 8.2 mo) and underwent a median of 2 (IQR 1-3) DMSA scans and 3 (IQR 2-4) UD tests. 31/130 patients (24%) developed DMSA abnormalities, 52/130 (40%) started early CIC, and 61/130 (47%) developed a febrile UTI over a median follow up of 3.8 years (IQR 2.1 – 5.5 years). Bladder trabeculations, VUR, EFP > 40 cm H2O, IV > 50% of estimated bladder capacity, and DPIV > 10 cm H2O were all associated with subsequent abnormal DMSA scan by log rank test (Figure 1). The best predictor of subsequent adverse outcomes was the combination of trabeculation and VUR (p<0.001 by log rank test) (Figure 2). 0/51 patients who maintained a non-trabeculated bladder without VUR during follow-up developed DMSA abnormalities compared to 31/79 (39%) who developed one or both findings (p<0.001). 8/51 (16%) who never developed trabeculations or VUR started early CIC compared to 44/79 (56%) with one or both findings (p<0.001), and 11/51 had a febrile UTI compared to 50/79 (p<0.001).
Conclusions:
Presence or absence of trabeculation and/or VUR outperformed other UD parameters in identifying young children with SD at high and low-risk for subsequent adverse urologic outcomes. Routine DMSA scan may have limited-to-no utility in patients who maintain a non-trabeculated bladder without VUR. Similarly, the utility of routine UD evaluation for predicting early DMSA abnormality, febrile UTI, and early CIC may be limited in patients who maintain a non-trabeculated bladder without VUR on cystogram.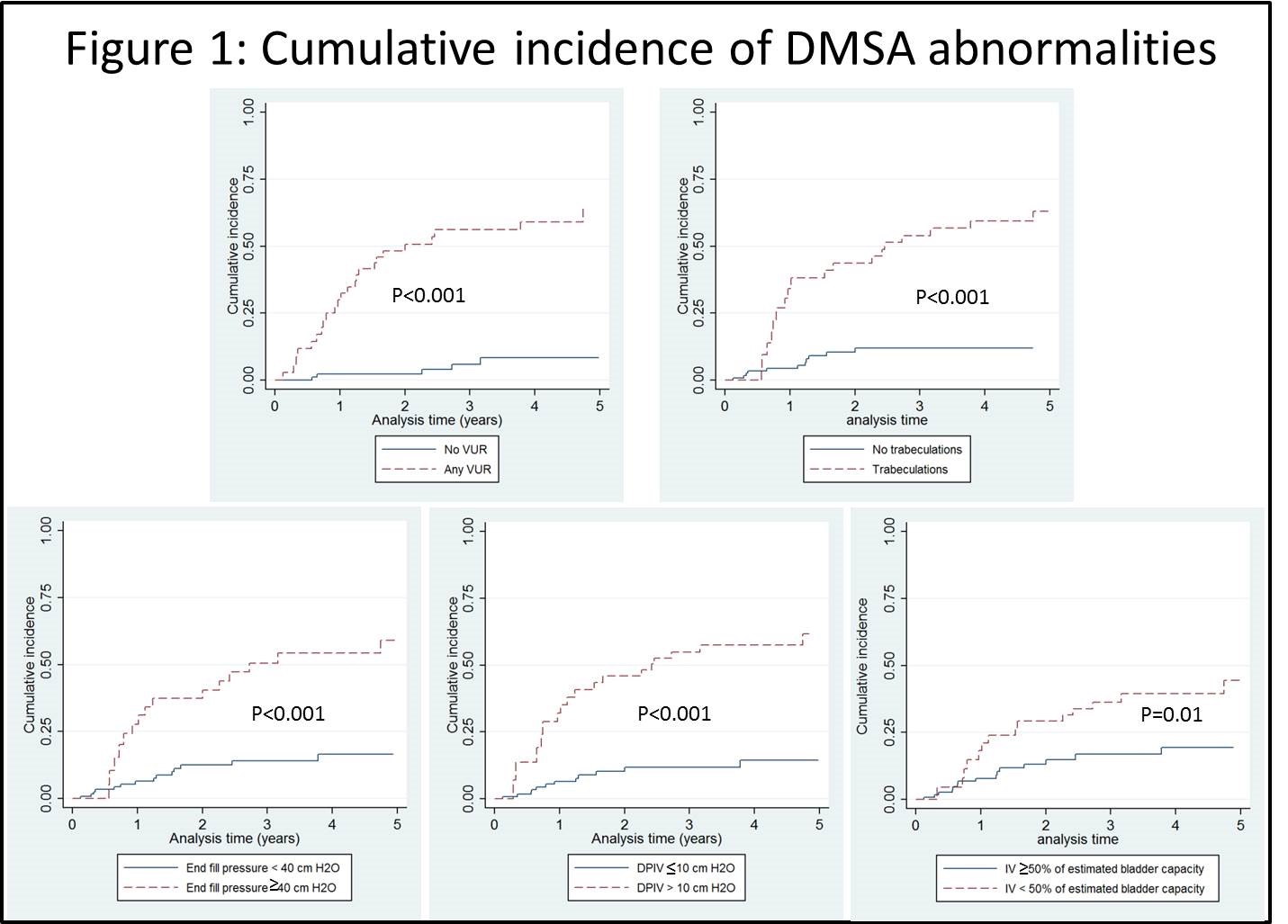 ---
Back to 2017 Program