---
Clinical Management Pathways and Parental Decisions in Disorders/Differences of Sex Development: A Survey of Healthcare Professionals
Kristina I. Suorsa-Johnson, PhD
1
, William Brinkman, MD, MEd, MSc, FAAP
2
, Meg Carley, BSc
3
, Melissa D. Gardner, MA
1
, Larry Gruppen, PhD
4
, Sophie Lightfoot, RN
5
, Phyllis W. Speiser, MD
6
, Dawn Stacey, RN, PhD, FCAHS, FAAN
5
, David E. Sandberg, PhD
1
.
1
University of Michigan, Ann Arbor, MI, USA,
2
University of Cincinnati College of Medicine, Cincinnati, OH, USA,
3
Ottawa Hospital Research Institute, Ottawa, ON, Canada,
4
University of Michigan Medical School, Ann Arbor, MI, USA,
5
University of Ottawa, Ottawa, ON, Canada,
6
Donald and Barbara Zucker School of Medicine at Hofstra/Northwell, Hempstead, NY, USA.
BACKGROUND: A variety of clinical management decisions need to be made on the behalf of infants born with a disorder/difference of sex development (DSD). Per core principles of patient- and family-centered care, parents play integral roles in decision making; however, it is not always clear to parents what their decision-making role is or that decisions need to be made. As part of a larger project designed to develop tools to support parents in decision-making, this study aimed to identify common clinical management decisions where parent involvement is necessary. METHODS: US-based healthcare providers (HCPs), specializing in DSD (n=28), completed a web-based parental decisional needs assessment survey. Participants were asked to identify medical, surgical, and psychosocial options for decisions for a set of exemplar cases involving newborns with: 1) 46,XX classic congenital adrenal hyperplasia (CAH) with enlarged clitoris, fused labia/scrotum, and low-confluence urogenital sinus; 2) 46,XX CAH newborn, announced as a boy, presenting to clinic 3 weeks later due to salt-wasting crisis; and 3) an undervirilized 46, XY newborn with presumptive partial androgen insensitivity syndrome. Two independent researchers coded qualitative data from open-ended case scenario prompts to identify emergent themes.
RESULTS: Decisions fell into two main groups: those that were DSD condition-dependent and occurred at specific points within the clinical care pathway versus those that were condition-independent and could be pursued at any time in the pathway (see Figure 1). Condition-dependent decisions noted as warranting parent involvement included aspects of endocrine and genetic testing, followed by decisions regarding gender of rearing and urogenital function/appearance. Options for management of urogenital function/appearance included psychosocial support/intervention, genital surgery, or opt for no interventions. An associated decision involved determining who has the responsibility and right to pursue early surgery: parent or child when adequately mature. HCPs included several "non-decisions" that would be described as necessary elements of care (e.g., that parents would need to give daily medication to their child with CAH). For other decisions, it was unclear if HCPs viewed them as such (e.g., exploration under anesthesia).
CONCLUSIONS: With an eye toward identifying areas in which parents may become active participants in decision-making, HCPs identified numerous decisions facing parents of infants with DSD. However, HCPs sometimes struggled to identify actual decision-points and instead described standards of effective care. Decision point identification is fundamental for HCPs to recognize when shared decision making is necessary and to invite caregiver participation. These findings suggest the importance of providing training in shared decision making to HCPs working in pediatric DSD. Project next steps include developing and disseminating such a training program.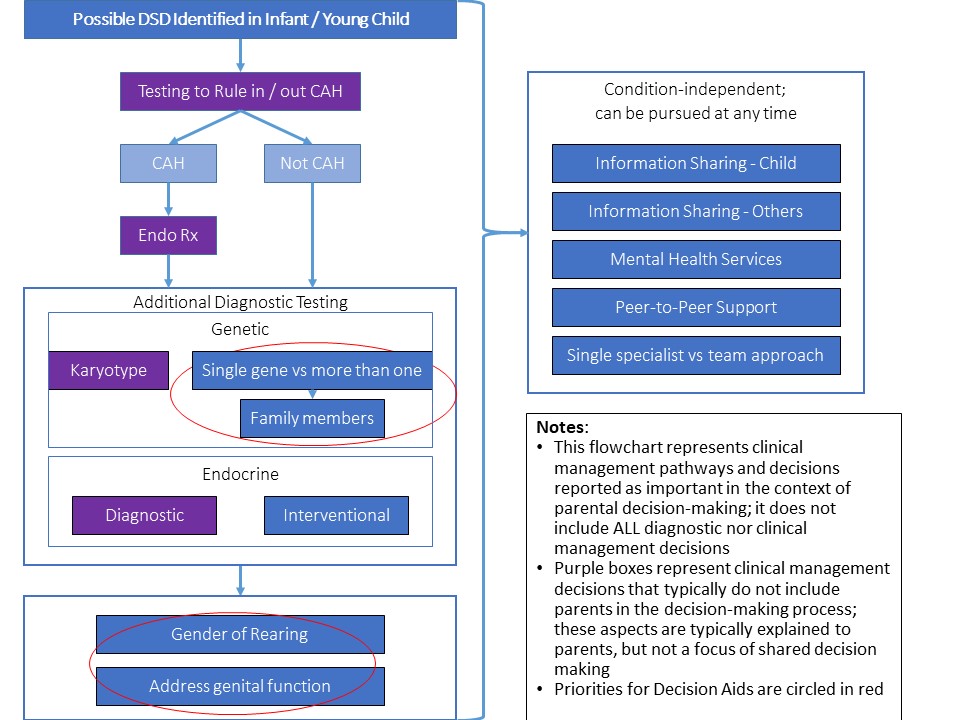 ---
Back to 2021 Abstracts