---
Feasibility of Enhanced Recovery After Surgery (ERAS) Implementation: Pilot Phase Outcomes of a Multicenter, Prospective Study
Kyle O. Rove, MD
1
, Andrew C. Strine, MD
2
, David I. Chu, MD, MSCE
3
, Megan A. Brockel, MD
1
, Duncan T. Wilcox, MD, MBBS
1
, Gino J. Vricella, MD
4
, Douglas E. Coplen, MD
4
, Erica J. Traxel, MD
4
, Rajeev Chaudhry, MD
5
, Brian VanderBrink, MD
2
, Elizabeth B. Yerkes, MD
3
, Yvonne Y. Chan, MD
3
, Nicholas Burjek, MD
3
, Rebecca S. Zee, MD, PhD
6
, C.D. Anthony Herndon, MD
6
, PURSUE Study Group, .
1
.
1
Children's Hospital Colorado, Aurora, CO, USA,
2
Cincinnati Children's, Cincinnati, OH, USA,
3
Ann & Robert H. Lurie Children's Hospital of Chicago, Chicago, IL, USA,
4
St. Louis Children's Hospital, Washington University in St. Louis, St. Louis, MO, USA,
5
Children's Hospital of Pittsburgh, University of Pittsburgh Medical Center, Pittsburgh, PA, USA,
6
Children's Hospital of Richmond at VCU, Richmond, VA, USA.
Background: Enhanced recovery after surgery (ERAS®) is a robust, multidisciplinary, multimodal framework designed to standardize perioperative care to return a patient to baseline function. There are few examples of successful implementation strategies in the pediatric surgical literature. Pediatric Urology Recovery After Surgery Endeavor (PURSUE) is a multicenter prospective study of ERAS in patients undergoing lower urinary tract reconstruction, and the study design includes a pilot phase to verify protocol implementation. We aim to determine whether ERAS can be effectively implemented at participating pediatric hospitals, assess implementation barriers, and understand characteristics of successful programs, particularly in unfamiliar contexts. We hypothesize that ERAS can be implemented with ≥70% mean protocol adherence at ≥75% of centers.Methods: To facilitate adaptation of ERAS—which includes 20 pre-, intra-, and postoperative process measures—as standard of care, site investigators (local surgeon champions) were directed to engage perioperative leaders, stakeholders, and staff or providers who may interact with surgical patients. Local context determined each ERAS implementation through structured multidisciplinary meetings, iteration, and overcoming barriers. Providers filled out pre- and post-pilot surveys seeking baseline familiarity with ERAS and perceived obstacles to implementation. To verify integrity of ERAS implementation at each site, an audit committee met after enrollment of the first 5 patients to review protocol adherence and provide an avenue for constructive feedback. To assess whether the pilot phase was successful, pilot outcomes included documenting involvement of core perioperative disciplines during startup, enrolling a minimum of 2 patients in first 6 months, completing 90-day follow up for first 5 patients, defining barriers to implementation, and assessing protocol adherence in accordance with the hypothesis.Results: 23 pediatric urologists (median 4 per center) participated in ERAS implementation across 6 centers, each enrolling 5 patients (total 30 patients). Implementation meetings included 10 medical disciplines. Centers held a median of 7 meetings (range 3–15) with median 5 participants (range 2–35). 237 providers completed pre- and post-pilot surveys, with 51% identifying the largest barrier to ERAS implementation as "difficulty initiating and maintaining compliance with care pathway." Median implementation duration (first meeting to first patient enrolled) was 57 days (range 15–306) and pilot duration (first to fifth patient) was 308 days (range 22–952) (Figure). All 6 sites met with the audit committee virtually to review compliance, discuss challenges, and suggest solutions. Median compliance across all centers was 16/20 process measures or 80% (range 15–18), thus affirming the hypothesis. One center struggled to implement ERAS (with long implementation and pilot duration exceeding 3 years) largely due to unforeseen disagreement with a co-managing surgical service over perioperative care elements.Conclusions: Successful implementations of ERAS across 6 pediatric urology centers was possible through multidisciplinary collaboration, structured approach, adaptation to local context, and strong auditing process. All 6 centers continue to maintain adherence, as we seek to complete primary enrollment for the study.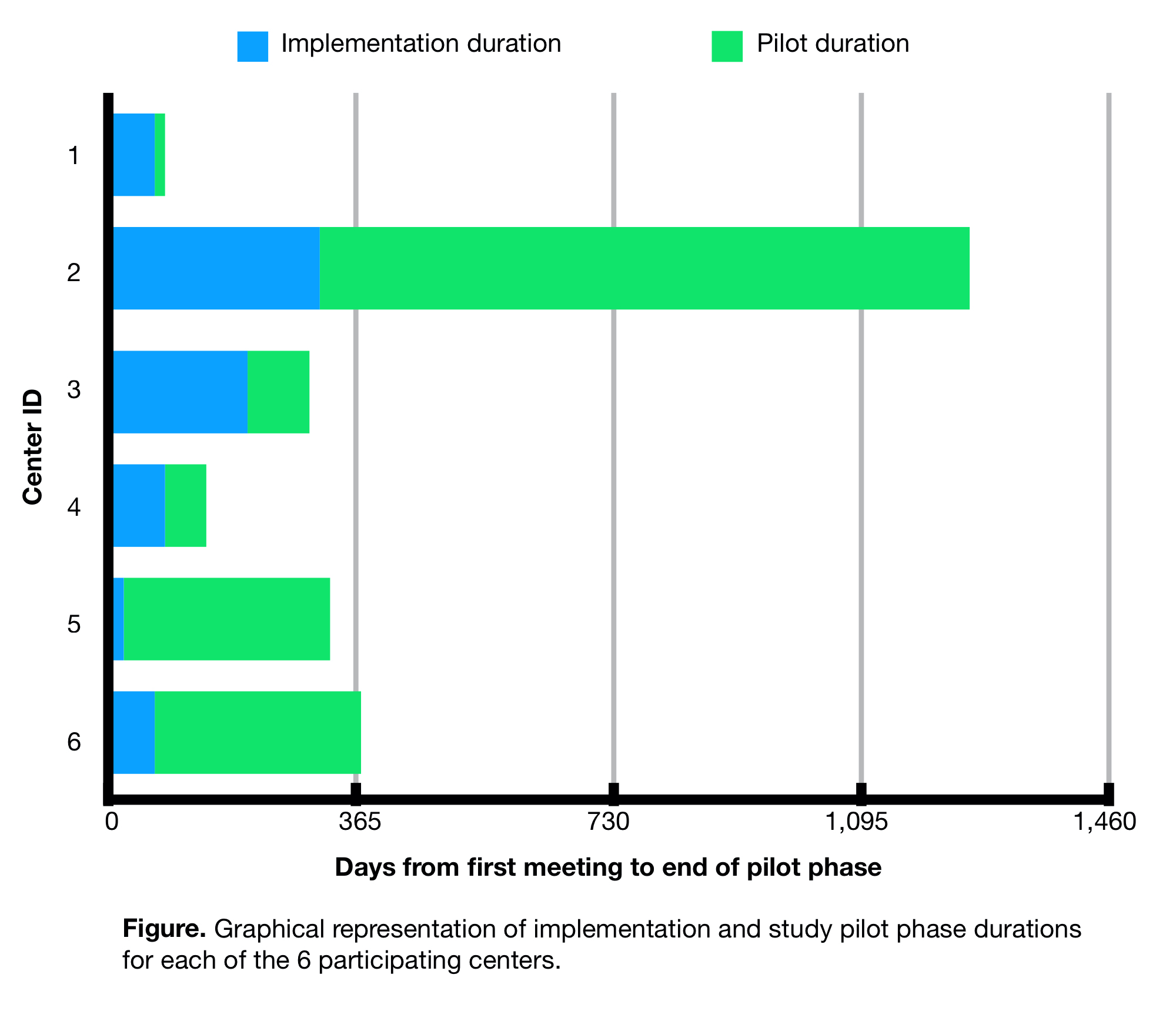 ---
Back to 2021 Abstracts