---
Semen Analysis in 487 Adolescent Males: The Association Between Semen Parameters and Total Testicular Volume
Alexander H. Fang, BS
1
, Israel Franco, MD, FAAP, FACS
2
, Joseph Boroda, BA
1
, Ronnie Fine, MD
1
, Steven C. Friedman, MD, FAAP, FACS
3
, Jaime Freyle, MD
3
, Vinaya Bhatia, MD
4
, Jessica Sommer, BS
1
, Paul F. Zelkovic, MD, FAAP, FACS
5
, Lori Landau-Dyer, MD
5
, Mark Horowitz, MD, FAAP, FACS
1
, Richard N. Schlussel, MD
6
, Jordan S. Gitlin, MD
1
.
1
NYU Langone Hospital - Long Island, Mineola, NY, USA,
2
Yale School of Medicine, New Haven, CT, USA,
3
Maimonides Medical Center, Brooklyn, NY, USA,
4
University of Wisconsin School of Medicine and Public Health, Madison, WI, USA,
5
Westchester Medical Center, Valhalla, NY, USA,
6
Hackensack University Medical Center, Hackensack, NJ, USA.
Background:
It is known the prevalence of varicoceles in adolescent men is 14-29% by the end of puberty but there is debate surrounding implications on future infertility. According to the American Society for Reproductive Medicine, semen analysis (SA) is warranted in pediatric patients without significant testicular atrophy. While SA is likely the closest marker of fertility, obtaining samples may be challenging, thus utilizing an objective test can serve as a key measure to assess patient fecundity. Our aim was to assess the validity of using total testicular volume (TTV) as a representation of adequate total motile sperm count (TMSC).
Methods:
We conducted a retrospective single institution chart review over 14 years of 487 Tanner V adolescents. 335 met inclusion criteria of palpable, non-operated left sided varicoceles who underwent at least one SA and testicular ultrasonographic measurement. Abnormal TMSC was defined by WHO 2010 criteria for minimal reference ranges. Spearman's correlation, ROC analysis and descriptive statistics were performed using SPSS.
Results:
Data on 335 Tanner V adolescent males with mean age ± SD of 18.49 ± 1.84 years were evaluated. Mean TTV was 35.4 ± 9.8 cc. Median TMSC in the cohort was 51.41 IQR (19.84 - 103.49). ROC analysis was performed with Youden index analysis which determined an optimal TTV cutoff of 31.89 cc to predict abnormal TMSC (NPV = 0.925). TTV was significantly positively correlated with TMSC (ρ 0.35, p <0.001) which indicates a moderate effect. On evaluation of testicular volume differentials (TVdiff) in relation to TMSC, there was no predictive capacity for >20% testicular volume difference on TMSC (p = 0.617). Furthermore, ROC analysis was performed, yielding an AUC = 0.57.
Conclusions:
Presently, we are using criteria of >20% testicular volume differentials to decide on surgical management. A recent publication by the group at CHOP points to using 34.4 cc TTV as a better indicator of poor semen quality based on 78 patients. We have replicated these findings showing that TTV is directly associated with TMSC. Our findings of an optimized cutoff of 31.89 cc TTV based on more than 4x the number of patients suggest that if TTV >31.89 cc, there is a 92.5% chance that TMSC will be normal, making a compelling argument that TTV can be used as a reasonable indicator of TMSC in adolescent patients who defer semen analysis.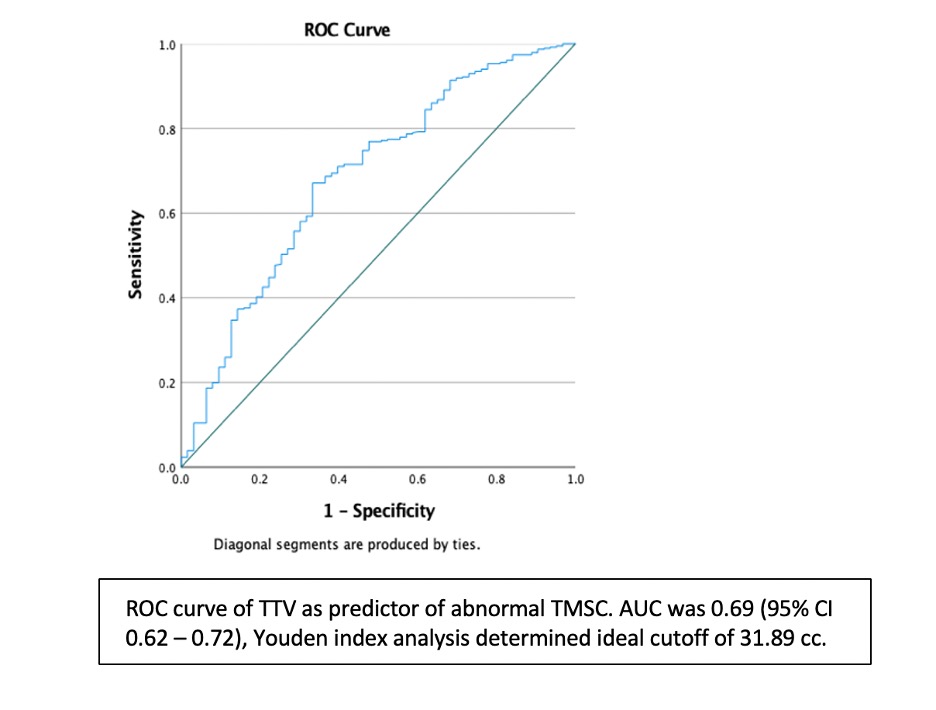 ---
Back to 2021 Abstracts