---
Neural network non-linear modeling to predict hypospadias genotype-phenotype correlation.
Nicolas Fernandez, MD, PhD
1
, Michael Chua, MD, MSc
2
, Juliana Villanueva, MD
1
, Daniela Varela, MD
1
, Darius Bagli, MD, PhD
2
, Margarett Shnorhavorian, MD, MPH
1
.
1
Seattle Children's Hospital, Seattle, WA, USA,
2
Hospital for SickKids, Toronto, ON, Canada.
BACKGROUND: Hypospadias affects urethral, ventral skin and corporeal bodies formation. Increased variable expressivity makes phenotyping a limited feature for genotype-phenotype correlation. There is a need to develop an objective assessment of the hypospadias phenotype and identify novel associations to the genotype that will facilitate genotype-phenotype correlations and may improve patient care. We hypothesize that the inclusion of genotyping can serve at classifying all types of hypospadias. We present the use of neural-network algorithm to evaluate phenotype/genotype correlations. METHODS: A systematic review was performed from January 1974 to June 2021. Literature was retrieved from Medline, Embase, Web of Science and Google Scholar. Included manuscripts were those that had an explicit anatomical description of hypospadias phenotype (urethral meatus location following an anatomical description) and a defined genotype (genetic mutation) description. Cases with more than one variant/mutation were excluded. A comprehensive phenotype-genotype statistical analysis using neural network non-linear data modeling SPSS™ was performed. RESULTS: Genotype-Phenotype analysis was performed on 1731 subjects. Of those, 959 (55%) were distal and 772 (45%) proximal. 49 genes with mutations were identified. Neural network clustering predicted better for coronal (90%) and glanular (80%), and lowest for midshaft (22%) and perineal (45%). Using genes as predictor factor only, the model was able to highly and more accurately predict the phenotype for coronal and glanular hypospadias. The following genotypes showed association to a specific phenotype: AR gene n.2058G>A for glanular (p<0.0001), n.480C>T for coronal (p=0.034), R840C for perineal (p=0.002), MAMLD1 gene c.2960C>T for coronal (p< 0.0001), p.G289S for glanular (p<0.0001), gene SRD5A2 607G>A for scrotal (p<0.0001), c16C>T for penoscrotal (p<0.0001), c59T>c for perineal (p=0.042), V89L for midshaft and scrotal (p<0.0001, p=0.041; respectively). CONCLUSIONS: Hypospadias phenotype has always been described from a purely anatomical perspective. Our results demonstrate that current standard phenotyping assessments have a poor correlation to the genotype. A higher correlation with distal meatal location proves the clinical applicability of genotyping these types of cases. The concept and classification of differences in sexual development need to be reconsidered. Given the better predictive value of genotyping in correlation to the phenotype, future efforts should be directed towards using the genotype to guide surgical decision-making and improve phenotyping classification systems.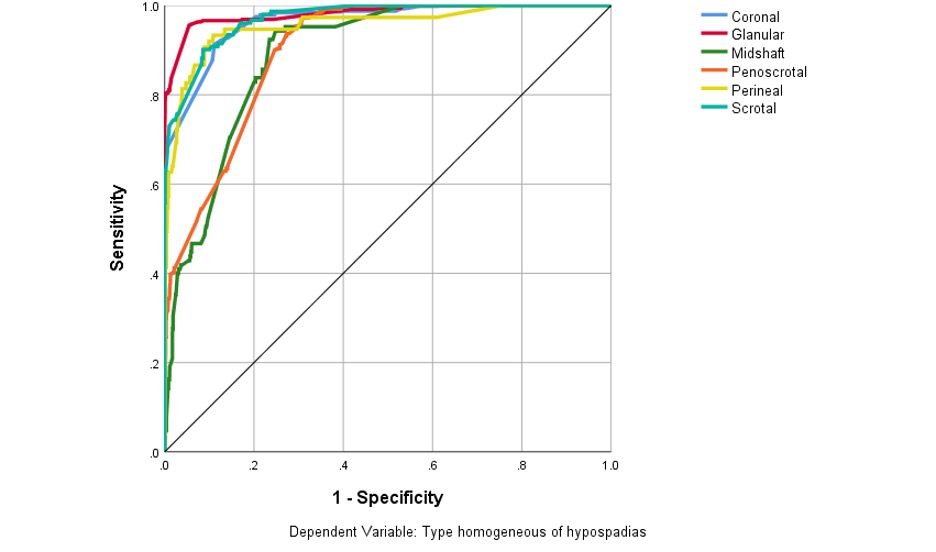 ---
Back to 2022 Abstracts