---
Preoperative and Intraoperative Urine Cultures and its Association with Post Operative Infection after Ureteroneocystostomy
Young Son, DO
1
, Lance Earnshaw, MS
2
, Edward Wu, MS
3
, Kimberly Lince, MS
4
, Shawon Akanda, DO
1
, Raeann Dalton, MS
5
, Gregory Dean, MD
6
.
1
Jefferson New Jersey, Philadelphia, PA, USA,
2
Rocky Vista Universeity, Parker, CO, USA,
3
Alabama College of Osteopathic Medicine, Dothan, AL, USA,
4
University of the Incarnate Word School of Osteopathic Medicine, San Antonio, TX, USA,
5
Rowan College of Osteopathic Medicine, Stratford, NJ, USA,
6
Urology for Children, Vorhees, NJ, USA.
Background: Vesicoureteral reflux (VUR) is the backflow of urine from the urinary bladder toward the kidney. Management of VUR ranges from the use of antibiotics as a prophylaxis to surgery. Patients with renal scarring or recurrent febrile UTI are candidates for ureteroneocystostomy (UNC) with success rates for both open surgeries approaching 98% and endoscopic approaching 70-90%. Investigations into the use of the preoperative and intraoperative urine culture (UCx) were assessed during a study published in 2017 suggesting little to no correlation between intra-operative UCx and postoperative infections. Our study aims to unveil the association between intra-operative urine culture and post-operative infections. We hypothesize that positive preoperative and intraoperative cultures will be correlated with postoperative UTI occurrence.
Methods: The 2020 American College of Surgeons National Surgical Quality Improvement Program Pediatric (NSQIP) data was analyzed for patients undergoing ureteroneocystostomy for VUR. A total of 1742 patients were evaluated with 978 meeting inclusion criteria of available preoperative or intraoperative urine culture. The patients were divided into 3 groups: no bacterial growth (Group A), bacterial growth with UTI, defined as ≥105CFU/ml with no more than 2 species of microorganism (Group B), and bacterial growth without UTI, defined as <105CFU/ml with no more than 2 species of microorganism or ≥105CFU/ml with more than 2 species of microorganism (Group C). Patient demographics, comorbid conditions, preoperative variables, and ASA classifications were evaluated (Table 1). Additionally, postoperative outcomes were evaluated between the 3 groups (Table 2). For categorical variables, Pearson chi square tests were performed, for continuous variables, mean+/-SD were presented and ANOVA analysis was performed.
Results: The postoperative urinary tract infection rate of the three groups were significant at 2.0%, 9.2%, and 9.9% for group A, B, C respectively (p<0.001). Postoperative sepsis was also noted to be 0.5%, 1.3%, and 3.6% for group A, B, C (p<0.01). Additionally, there was a difference between mean operative time (p<0.001), mean length of stay (p=0.03), and mean days from operation to discharge (p<0.01). On univariate and multivariate analysis of factors predicting for postoperative UTI, both groups B and C had higher rates compared to group A. Esophageal/gastric/intestinal disease, ostomy, neuromuscular disorder, nutritional support, total operation time, and length of stay was significant on univariate, however non-significant in multivariate analysis (Table 3).
Conclusion: Previously thought Group C was believed to be clinically insignificant. We show that there were higher rates of postoperative UTI with Group B and C compared to Group A. Considerations for treating cultures of Group B must be considered when undergoing UNC for VUR.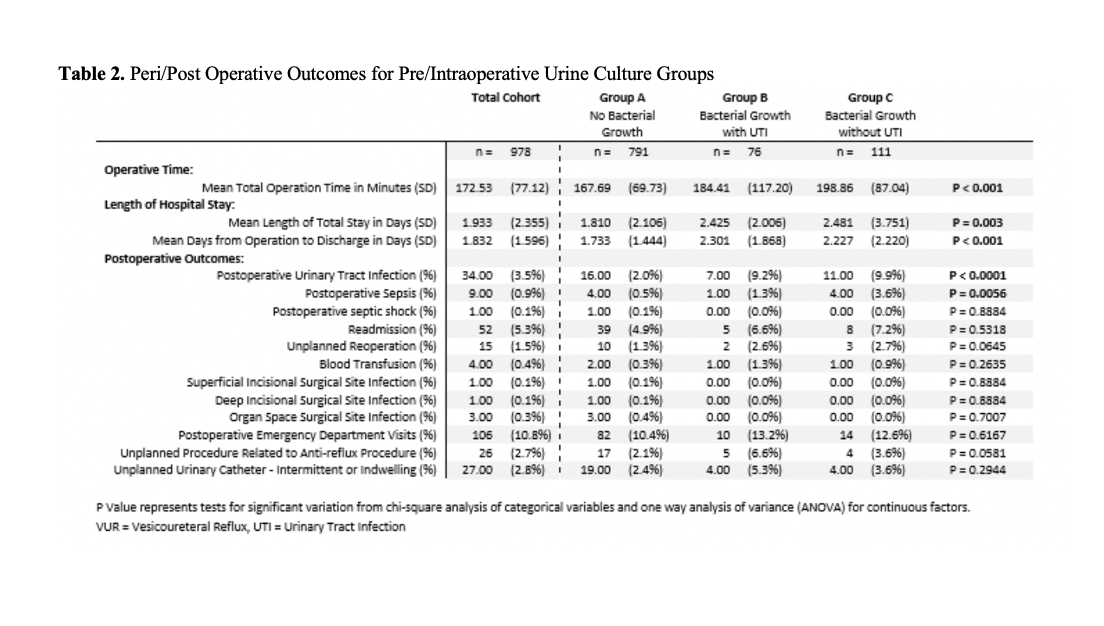 ---
Back to 2022 Abstracts