---
Fetal Through Pubertal Human Ovarian Morphology, Folliculogenesis and Expression of Cellular Differentiation Markers
Maya Ragini Overland, MD PhD
, Yi Li, MD, Amber Derpinghaus, MS, Sena Aksel, MD, Mei Cao, MD, Nicholas Ladwig, MD, Gerald R. Cunha, PhD, Laurence S. Baskin, MD.
UCSF, San Francisco, CA, USA.
BACKGROUND: A definition of normal human fetal and early postnatal ovarian development is critical to the ability to accurately diagnose the presence or absence of functional ovarian tissue in patients with disorders of sex development. Through assembling an extensive histologic and immunohistochemical developmental ontogeny of human ovarian specimens from 8 weeks gestation through 16 years of postnatal development, we present a comprehensive immunohistochemical mapping of normal histology and protein expression patterns in the early fetal through post-pubertal human ovary and detail a specific expression-based definition of the early stages of follicular development.
METHODS: With IRB approval, anonymous human fetal and postnatal ovarian specimens were collected after elective termination or autopsy (Figure 1). Fetal age was estimated using heel-toe length and sex in younger specimens was determined by PCR amplification of the SRY gene. Standard immunohistochemical protocols were used for staining.
RESULTS: Normal fetal and postnatal ovarian tissue is defined by the presence of follicular structures (Figure 2) and characteristic immunohistochemical staining permutations, including granulosa cells expressing Forkhead Box Protein L2 (Figure 3). However, wide swaths of postnatal ovarian specimens are defined by stromal tissues alone (Figure 4). While there are no definitive markers for ovarian stroma, the steroidogenic markers Cytochrome p450c17 and Insulin-like Peptide demonstrate subtle differential staining of human fetal and postnatal ovarian and testicular stroma (Figure 5). Cytochrome p450 diffusely stained Leydig cells in the fetal and postnatal testis but only stained selected larger stromal cells in the fetal and postnatal ovary. Similarly, Insulin-like Peptide 3, also a marker of Leydig cells in the testis, is diffusely expressed (albeit sometimes faintly) in nearly all intercordal cells in the fetal and postnatal testis, but does not stain stromal cells in the fetal ovary and only stains occasional thecal and stromal cells in the postnatal ovary. However, these staining patterns are too subtle and variable to be reliably used in pathologic diagnosis. CONCLUSIONS: The current standard array of immunohistochemical markers poorly defines ovarian stromal tissue and additional work is needed to identify new markers to advance our ability to accurately identify ovarian stromal components in gonadal specimens from patients with disorders of sexual differentiation.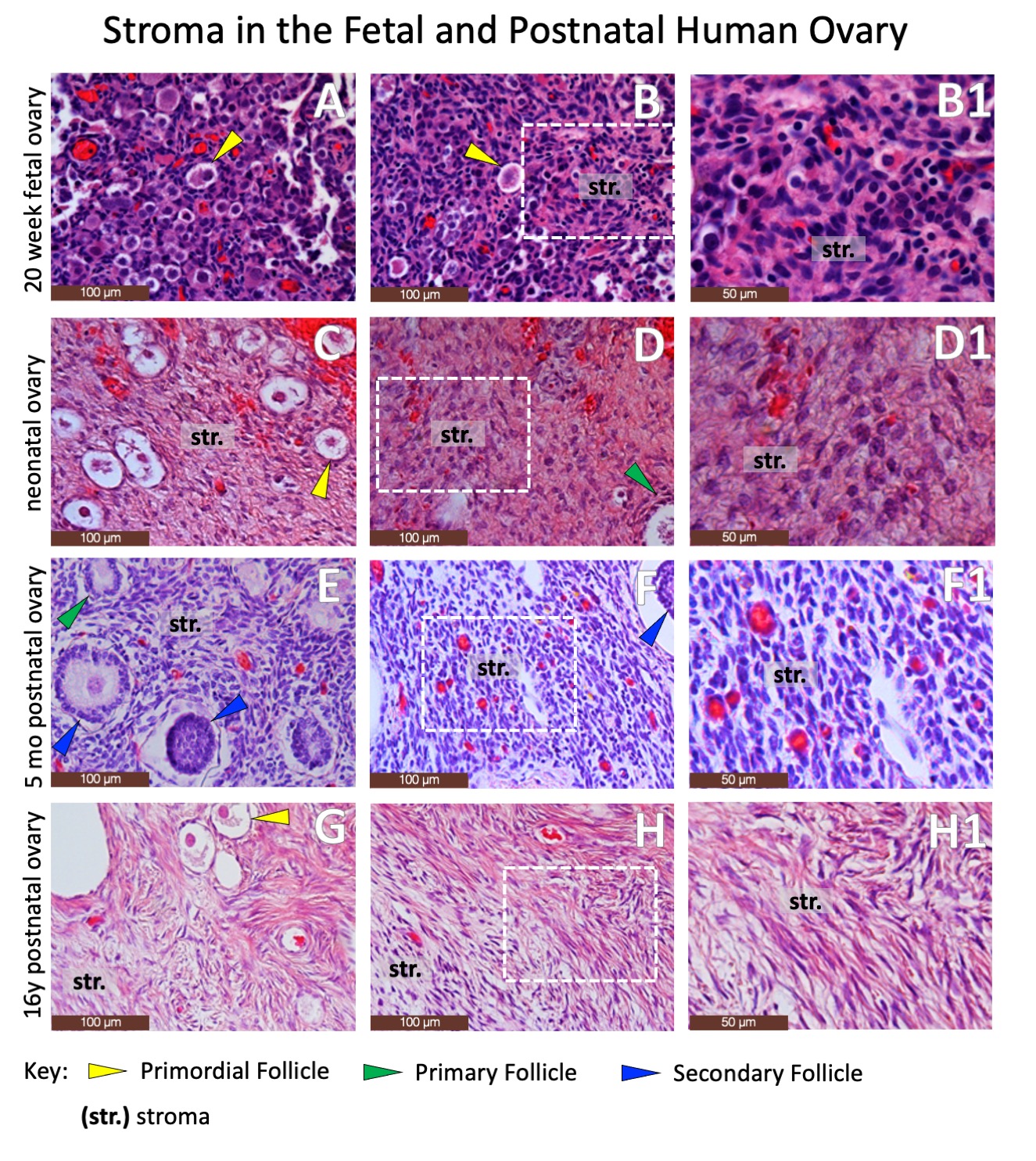 ---
Back to 2022 Abstracts